Robinson & Rohe
The Longest Winter - A Christmas Concert & Singalong
Thursday, December 20, 2018
with special guest John Terlazzo & Voices in the Hall
Thursday, December 20, 2018
Doors 7:00 PM / Showtime 8:00 PM
All Ages

Artist website: Robinson & Rohe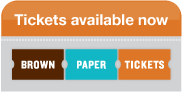 Pre-sales for all shows end at noon on the day of the show. Tickets are will call only, nonrefundable, but transferable to another person (for the same show). All tickets are general admission.
A crowd of friends and neighbors has gathered on one of the longest nights of the year. All is warm and cozy inside, while the cold winter wind blows just outside the door. The clatter of wine glasses and mugs filled to the brim with hot cider gives way to silence. And from that radiant silence emerges a song...
For the past ten years, Robinson & Rohe have been performing The Longest Winter: A Christmas Concert and Singalong. Annually hosted in venues and house concerts throughout the Northeast, this event has become an audience favorite, a staple of the season. The music comes resplendent with a gorgeous backdrop, a triptych of paper cut light boxes designed by illustrator Andrew Benincasa.
Liam Robinson and Jean Rohe bring their folk-music roots and contemporary sensibilities to songs new and old. Robinson & Rohe go deep into the Christmas repertoire: the mystical, the melancholic, the soulful, the sublime. Expect songs you may not know: haunting melodies of old Europe, American folk carols, and modern takes on the strange and ancient Christmas tale.
About Robinson & Rohe:
Robinson & Rohe is the duo project of songwriters Jean Rohe and Liam Robinson. Liam is an original cast member of the Tony Award winning play "Warhorse," musical director of the Off-Broadway folk opera "Hadestown," sideman to Anaïs Mitchell, and a member of the Becca Stevens Band. Jean Rohe is an award-winning songwriter and bandleader best known for her alternative anthem for the United States, "National Anthem: Arise! Arise!" which has been performed and recorded by dozens of artists and ensembles across the country. In summer 2017, Robinson & Rohe released their debut record, Hunger, a collection of songs about love and the land.
John Terlazzo - composer, vocals, guitar and Indian harmonium, Kristina Machusick - vocals, flute & recorders, and Paul Wegmann - vocals & lead guitar
Jim Allen, a New York City based music journalist / critic who writes for Rolling Stone, among other music magazines. included John Terlazzo's album Barbarian Hymns as number 5 among his 11 Favorite Albums of 2014, along with Chris Smither, Courtney Barnett, Sturgill Simpson and Lydia Loveless...
Jim said, "This is some of the best songwriting I've seen anywhere - and believe me, I've seen a lot!" He introduces the album: "In case you ever wondered what would have happened if Leonard Cohen came from Pennsylvania, started out a couple of decades later, and gave up smoking a long time ago".
From a recent concert host: "John's lyrics have a depth, weight, and insight to them that only comes from a life well-lived and a willingness to explore the mystery of one's own soul. Ursula Le Guin said, "The artist deals with what cannot be said in words." Through his lyrics, John says - with words - what cannot be said in words".
John Terlazzo & Voices in the Hall have been described as "Modern Surrealist Gypsy Music", "Marc Chagall gone aural", "Leonard Cohen meets Rumi" and (the band's most recent favorite) "Too Exotic for Wal-Mart" (!!!)
They are presently at work on their ninth album, Ancient Chains, (To read a recent interview about the new songs go to http://www.johnterlazzo.com/ancientchainsInterview.html), as well as a re-release of Terlazzo's first album Honor Among Thieves (including an additional 30 minutes of live material from the time period), and a double-album live/retrospective to be titled Songs & Omens.